about Jo
From my studio in SW Scotland I make cushions, scarves and one-off pieces out of fabrics ranging from cotton velvet to fine translucent silks: hand-dyed, pieced and machine-embroidered.
After gaining a BA Hons in fashion/textiles I set up a workshop in Balnakeil Craft Village in Sutherland designing, making and selling cushions and wall-hangings.
In 1992 I relocated to Kirkcudbright in SW Scotland and then moved again in 2014, 15 miles north, out into the beautiful Galloway countryside.
My work is inspired by the surrounding landscape, its colours textures, the shifting light on hills and coast, the form and patterns of its forests, while a lot of my cushions take a quirky look at its flora and fauna.
I run workshops and projects with adults and children and give illustrated talks to groups.
I have undertaken numerous private commissions as well as several public commissions, and have had solo exhibitions as well as work in group exhibitions.
More about Jo
1955
Born in Hertfordshire. Brought up in Norfolk
1974-79
B.A.Hons in Fashion/Textiles specialising in woven textiles at Birmingham Polytechnic.  Followed by Post Graduate Certificate in Art Education
Awarded first prize in the competition to design wall-hanging for Aston University Library.
1979-80
Taught weaving privately and for a local authority in Devon.
1984
Started designing and making fabric wall-hangings and cushions after initiating a community patchwork project in Suffolk.
1987

Moved to Balnakeil Craft Village in Sutherland, set up workshop and shop.

1989-1992
Involved in arts promotion for Durness and north-west Sutherland.
1992
Moved to Kirkcudbright, Southwest Scotland
2003-2015
Spring Fling Committee member and director
2014
Moved to current studio at Mossdale
Selected exhibitions
| | |
| --- | --- |
| 2016 | Solo exhibition at CatStrand, New Galloway |
| 2016 | "On the Wing" McLaurin Gallery, Ayr (group) |
| 2014-20 | Work in exhibitions at Whitehouse Gallery, Kirkcudbright |
| 2014 | "D&G Out" Biscuit Factory, Gateshead (group) |
| 2011 | "On the Wing" McLaurin Gallery, Ayr (group) |
| 2003 | "Vibrant Forms" Green Gallery, Aberfoyle (group) |
| 2001 | "Illumination" Gracefield Arts Centre, Dumfries (group) |
| 2001 | "Autumn Colours", Designs Gallery, Castle Douglas |
| 2001 | "Prononcez Coeur-cu-Brie", Pont Aven, Brittany |
| 1999 | "Landlines", Shambellie House Museum of Costume |
| 1998 | "10×10", Crichton Royal Museum, Dumfries |
| 1997-9 | "Paying Our Dues", touring exhibition |
| 1997 | "Elements for Living", Tolbooth Art Centre, Kirkcudbright |
| 1997 | "Within Our Grasp" Gracefield Arts Centre, Dumfries (group) |
| 1996 | "Value Added", Aberdeen (group) |
| 1994 | Gracefield Arts Centre, Dumfries (solo) |
| 1993 | Gossipgate Gallery, Alston (group) |
| 1992 | Edinburgh Art College (group) |
| 1987 | Crome Gallery, Norwich (group) |
Selected commissions
2019

Commissioned to make award pieces for Leader Rural Awards
2016

 

Textile panel for CatStrand permanent collection

2006                    

Selected to design and make bespoke craftwork for media promotion of Spring Fling
2002

Textile Panels for St John's Episcopal Church, Stranraer

2001

Award pieces for Arts & Business Scottish Awards 2001

2000

Panels for chapel at Royal Glamorgan Hospital

1998

Panel for Dumfries Visitor Centre, involving local embroidery groups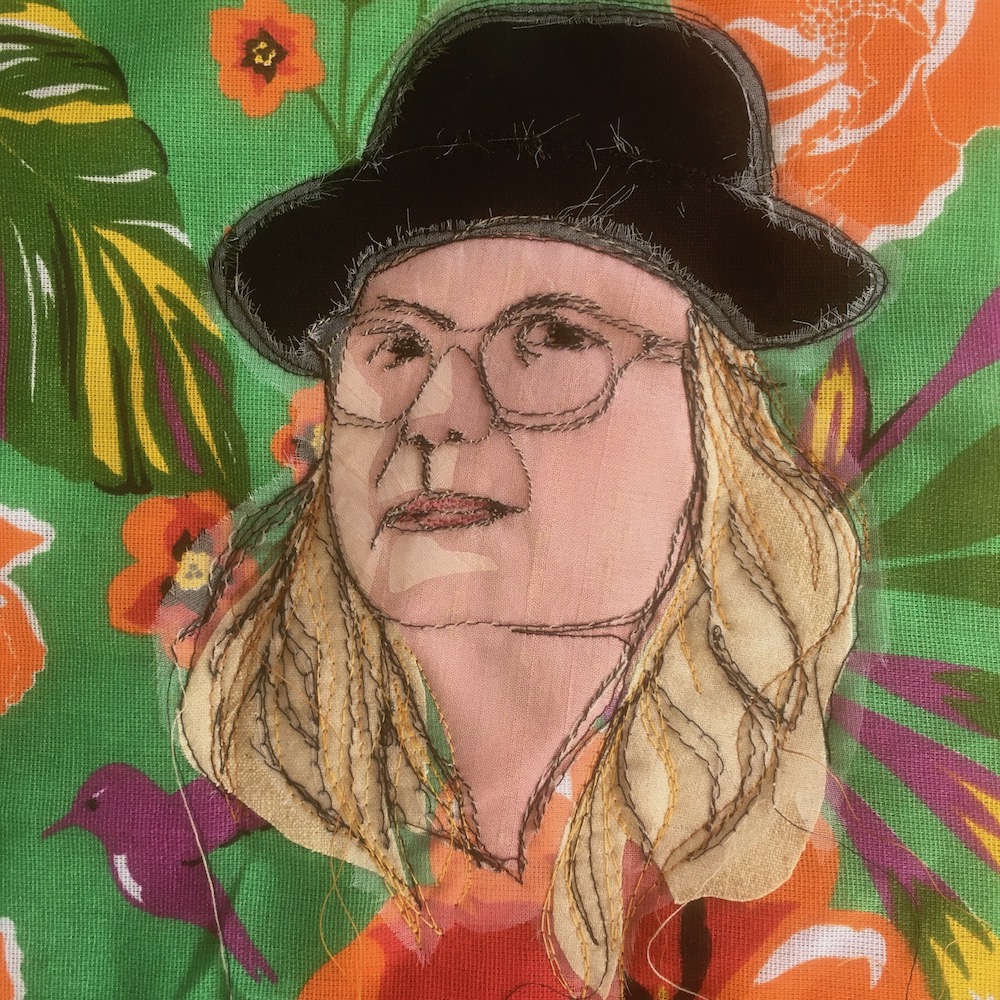 Birds Trees & Zips
A short video about my practice.